Active Management in Action
PIMCO's active investment process combines our top-down macroeconomic view with bottom-up research and analysis to put our best ideas around the world to work in PIMCO portfolios. We believe this approach has enabled us to give our clients an edge by anticipating economic and market developments and forecasting major inflection points – insights that may be especially valuable in today's uncertain market environment.
Positioning Across Market Scenarios
Combining top-down and bottom-up inputs, our 285+ portfolio managers around the world not only position portfolios for what we anticipate may happen, they also structure portfolios to prepare for scenarios outside of our base case. This gives our portfolio managers the ability to respond quickly to surprising events and market interruptions – an edge that can help portfolios become more defensive or offensive as conditions change.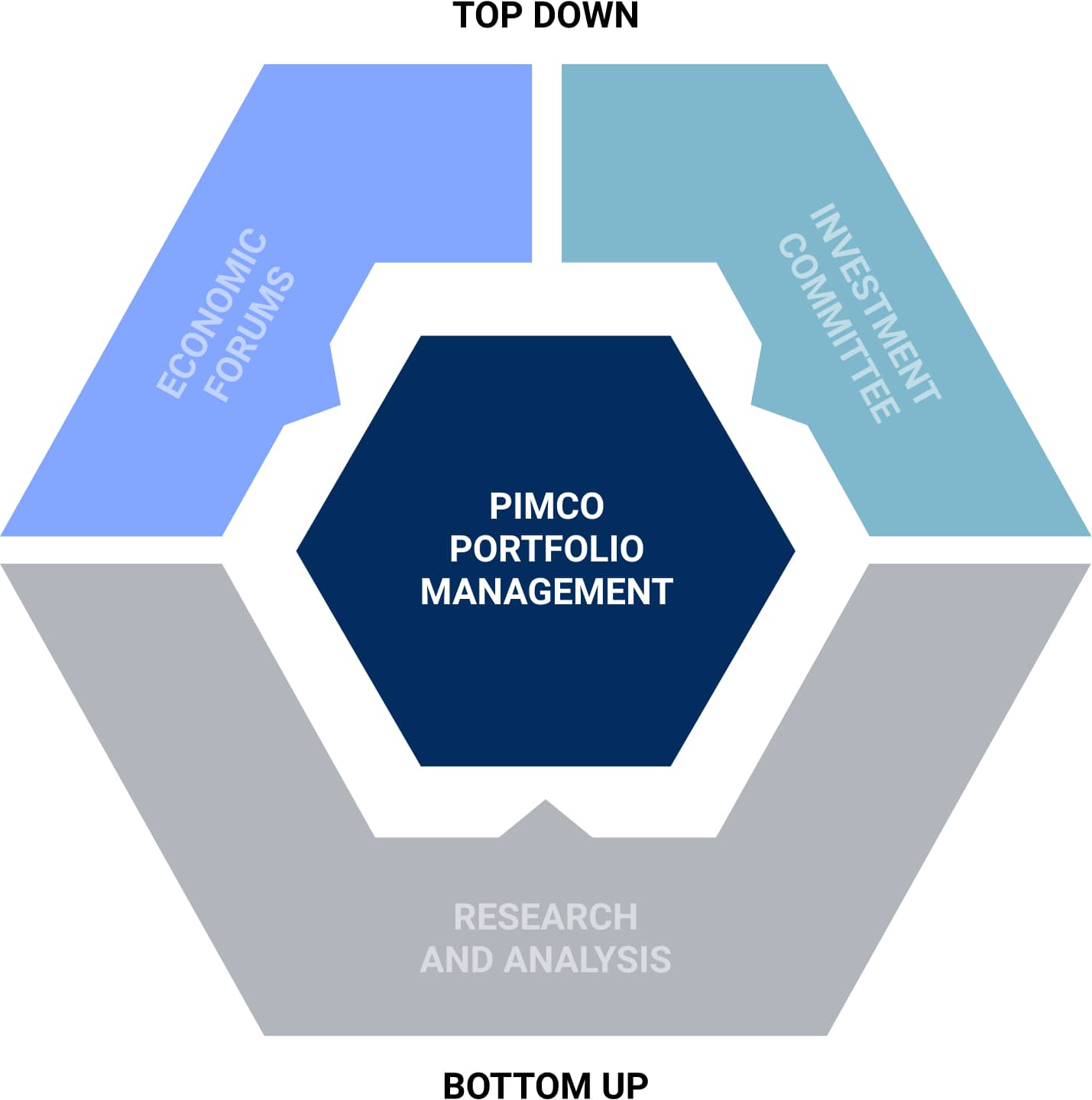 Credit Research
Our 80+ global credit analysts travel the world to gain an unparalleled understanding of securities across the capital structure. Their extensive research forms the foundation of our proprietary, independent credit ratings.
Quantitative Analysis
PIMCO has relied on quantitative strategies combined with fundamental analysis to drive alpha in fixed income for three decades.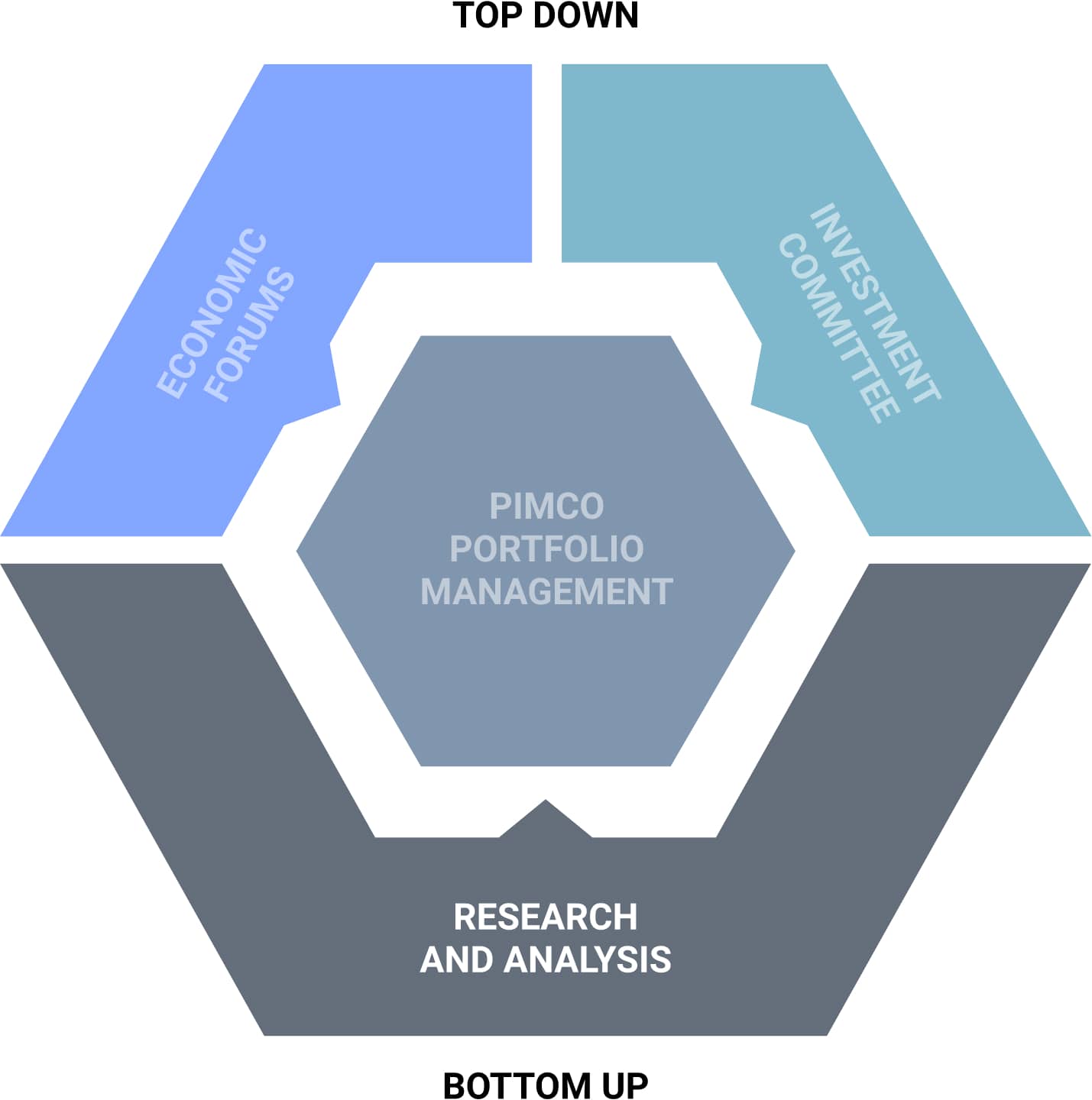 Translating Outlooks Into Portfolio Targets
Active portfolio management is a daily effort that starts with input from our Investment Committee, composed of the firm's CIOs and most senior investment professionals, as well as rotating members and guest speakers to help ensure diversity of thought.
The Investment Committee meets four days a week, for two hours a day to distill the long- and shorter-term views developed at our economic forums into specific investment risk targets which serve as parameters for every PIMCO investment portfolio.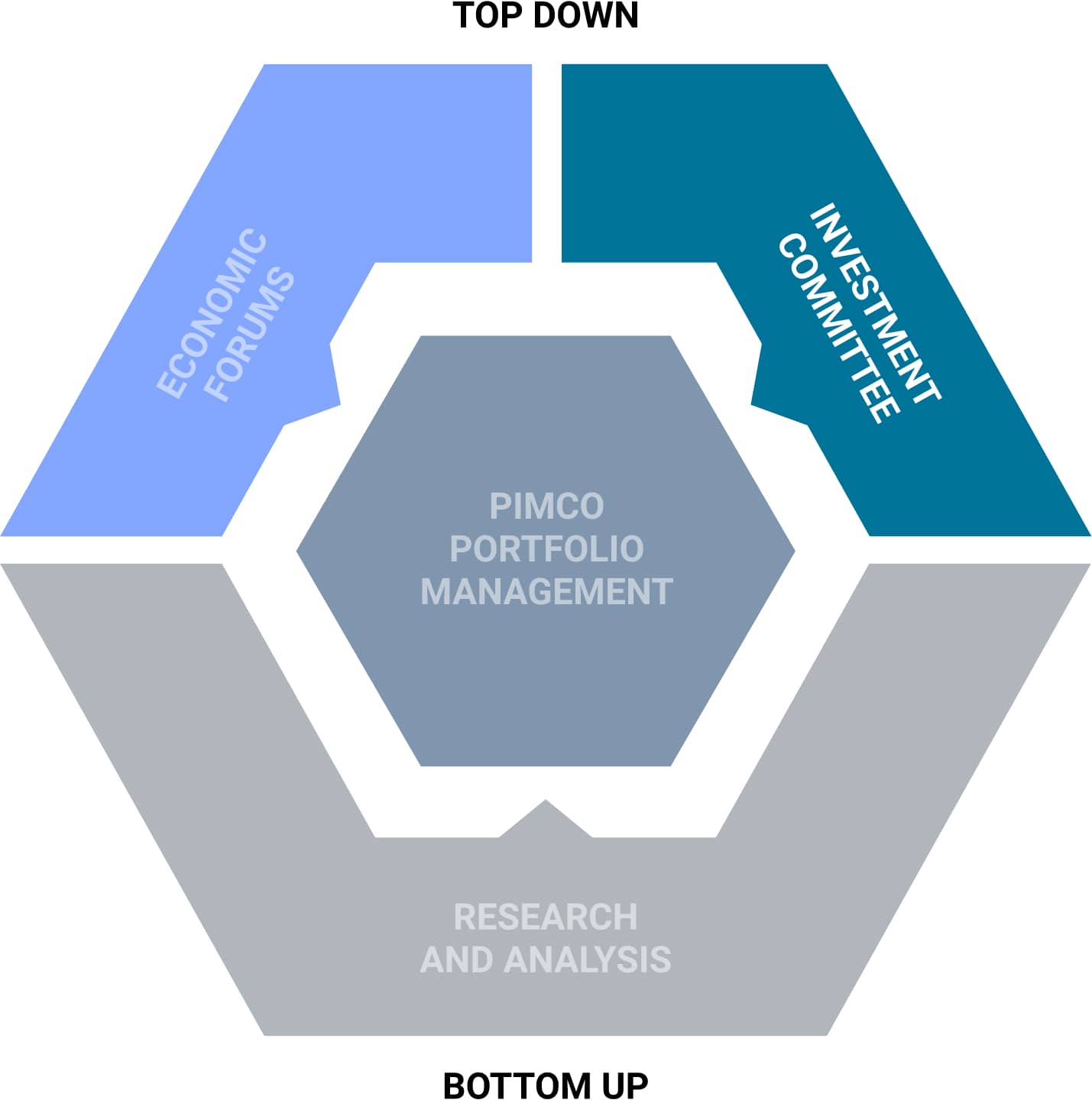 Establishing Medium- and Long-Term Outlooks
Four times a year, PIMCO investment professionals from around the world gather to discuss and debate the state of global markets and the economy in order to identify trends that will have important investment implications going forward.
The annual Secular Forum discussions yield long-range investment themes that keep us on the right road while the Cyclical Forums, held three times a year, refine those views against the backdrop of more timely market and economic conditions.
View PIMCO's latest outlook for the global economy and financial markets here: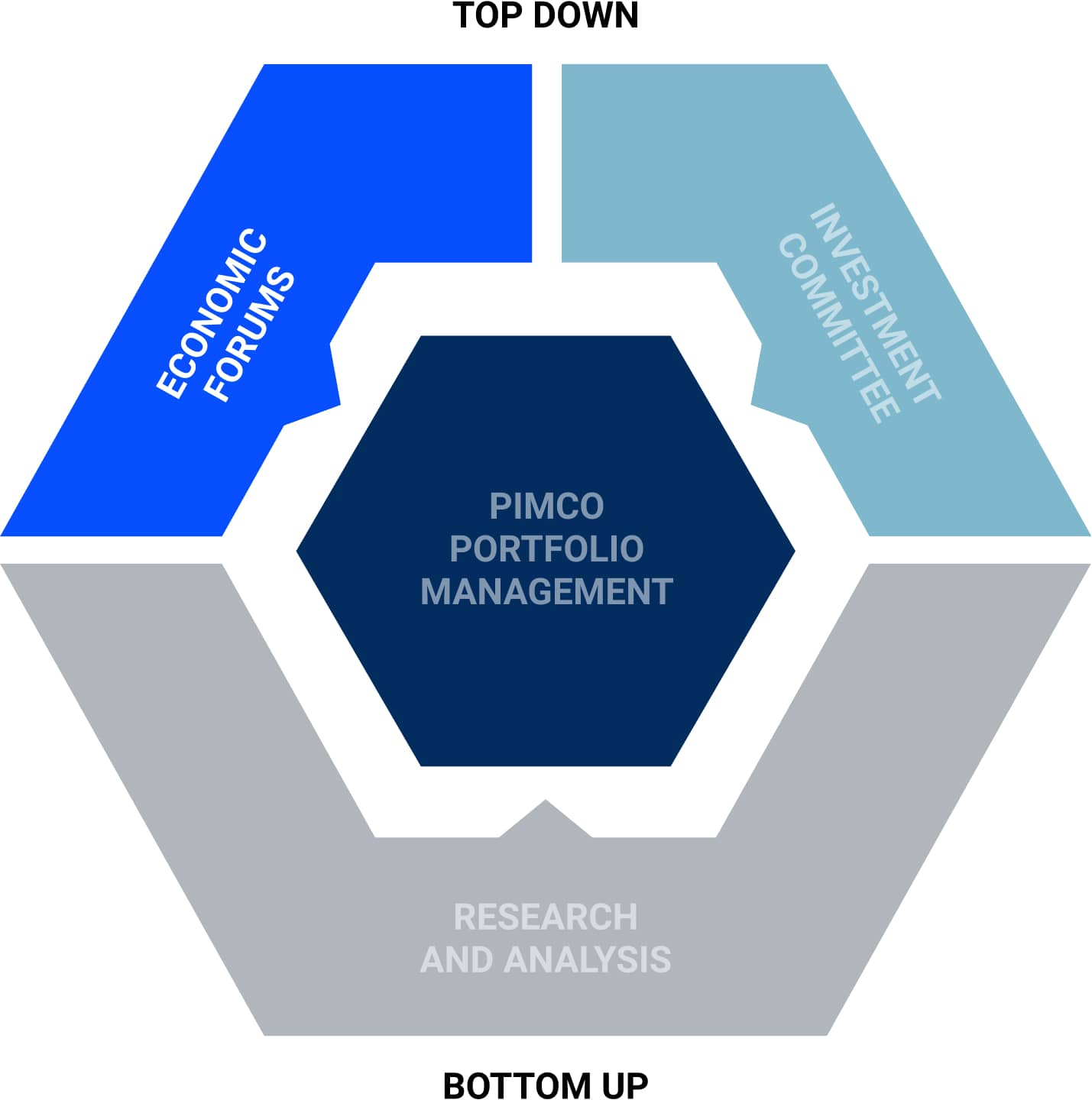 Stewards of Our Clients' Assets
Risk management is at the center of everything we do and is integrated into every step of our investment process. We also have a dedicated Portfolio Risk Management team located in offices around the globe, which enables 24-hour portfolio coverage and continuity of information flow from region to region.
Expanding Our Perspective

PIMCO Global Advisory Board
Chaired by Dr. Ben Bernanke, this team of world-renowned experts provides us with insights on global economic, political and strategic developments.

ESG Investing & Impact
Within our dedicated ESG strategies, we focus on identifying and engaging with companies that have the ability and will to improve ESG related business practices.

Behavioral Science at Work
We've partnered with The Center for Decision Research at The University of Chicago Booth School of Business to access cutting-edge research and incorporate more behavioral insights into our processes.
Powered by Ideas, Tested by Decades
Walkthrough our investment process in this 2-minute animated video.
How can PIMCO help you?
For more information and answers to your questions, please contact us.
Disclosures
Past performance is not a guarantee or a reliable indicator of future results.
All investments contain risk and may lose value. Investing in the bond market is subject to risks, including market, interest rate, issuer, credit, inflation risk, and liquidity risk. The value of most bonds and bond strategies are impacted by changes in interest rates. Bonds and bond strategies with longer durations tend to be more sensitive and volatile than those with shorter durations; bond prices generally fall as interest rates rise, and low interest rate environments increase this risk. Reductions in bond counterparty capacity may contribute to decreased market liquidity and increased price volatility. Bond investments may be worth more or less than the original cost when redeemed. Management risk is the risk that the investment techniques and risk analyses applied by PIMCO will not produce the desired results, and that certain policies or developments may affect the investment techniques available to PIMCO in connection with managing the strategy.
ESG investing is qualitative and subjective by nature, and there is no guarantee that the factors utilized by PIMCO or any judgment exercised by PIMCO will reflect the opinions of any particular investor, and the factors utilized by PIMCO may differ from the factors that any particular investor considers relevant in evaluating an issuer's ESG practices. In evaluating an issuer, PIMCO is dependent upon information and data obtained through voluntary or third-party reporting that may be incomplete, inaccurate or unavailable, or present conflicting information and data with respect to an issuer, which in each case could cause PIMCO to incorrectly assess an issuer's business practices with respect to its ESG practices. Socially responsible norms differ by region, and an issuer's ESG practices or PIMCO's assessment of an issuer's ESG practices may change over time. There is no standardized industry definition or certification for certain ESG categories, for example "green bonds"; as such, the inclusion of securities in these statistics involves PIMCO's subjectivity and discretion. There is no assurance that the ESG investing strategy or techniques employed will be successful. Past performance is not a guarantee or reliable indicator of future results.
There is no guarantee that these investment strategies will work under all market conditions or are appropriate for all investors and each investor should evaluate their ability to invest for the long term, especially during periods of downturn in the market.
PIMCO as a general matter provides services to qualified institutions, financial intermediaries and institutional investors. Individual investors should contact their own financial professional to determine the most appropriate investment options for their financial situation. This material contains the current opinions of the manager and such opinions are subject to change without notice. This material has been distributed for informational purposes only and should not be considered as investment advice or a recommendation of any particular security, strategy or investment product. Information contained herein has been obtained from sources believed to be reliable, but not guaranteed. No part of this material may be reproduced in any form, or referred to in any other publication, without express written permission. PIMCO is a trademark of Allianz Asset Management of America LLC in the United States and throughout the world. ©2023, PIMCO
2023-0217-2746098