Economic and Market Commentary
Investing in a Fast-Moving Cycle
A long-term approach can help investors position for opportunities in a volatile and rapidly advancing business cycle.
By
Tiffany Wilding,
Tony Crescenzi and
Andrew Balls
11 January 2022
Summary
Peak fiscal policy support, and therefore peak real GDP growth, was likely realized in 2021, and the global economy now appears to be rapidly progressing toward late-cycle dynamics. Monetary policy in most regions has shifted course toward normalization.
Frictions in both goods and labor markets have spurred inflation. Our base case has global inflation peaking by the first quarter and then moderating closer to central bank targets by the end of 2022, and we are closely monitoring upside risks to that view.
Risk premiums and yields don?t reflect potential downside scenarios, in our view, which warrants caution and a rigorous approach to portfolio construction.
We generally favor a duration underweight relative to the benchmark, and look to position portfolios for a steeper yield curve. Given the likelihood for higher volatility, we anticipate active duration management to potentially be a more significant source of alpha than in the past.
We seek credit exposure from diversified sources, including non-agency U.S. mortgages, select COVID-19 recovery themes, and single-name opportunities. We have a constructive view on global equities, but are preparing for late-cycle dynamics, with greater focus on security selection.
Economic Outlook
Uncertainty has become an ongoing theme in markets, economies, and communities everywhere, and in this environment, PIMCO investment professionals gathered – virtually, once again – for our recent Cyclical Forum. We debated key trends across global economies, policies, and investment sectors, in discussions that ultimately inform our outlook for the coming year along with high-level portfolio strategy (for more details on our forum process, please watch this behind-the-scenes video ).
Economic outlook: More volatility, more uncertainty
Over the secular horizon, we expect a more uncertain and volatile macro environment with economic cycles becoming shorter in duration, larger in amplitude, and more divergent across countries (for details, see PIMCO's Secular Outlook, "Age of Transformation"). These secular themes appear to be playing out over the cyclical horizon as well: Much of the global economy has transitioned quickly from an early cycle recovery to a mid-cycle expansion, necessitating a faster policy shift from the extraordinarily easy conditions that prevailed in 2020 and 2021, in our view.
Further complicating matters, the speed of the recovery coupled with the volatile path of the virus have also contributed to more significant frictions in both goods and labor markets that have elevated inflation. The timing and extent to which these issues resolve and inflation moderates is highly uncertain, raising the risk of an unwanted jump in longer-term inflation expectations – an outcome that we expect central banks will want to avoid or mitigate. Overall, we believe this more uncertain, more volatile macroeconomic environment is evidence that the last several decades of subpar growth and below-target inflation are firmly behind us, and what lies ahead are more volatile and uncertain paths that vary across regions and sectors.
The road to recovery is paved with stones
Since we last shared our Cyclical Outlook in June (Inflation Inflection), the robust global recovery has continued, although unevenly across regions and sectors. Overall, government policies to support demand amid one of the largest economic contractions in modern history produced one of the fastest recoveries. Developed market output fully recovered to its pre-pandemic peak in the third quarter of 2021, and at a 5% (annual average) projected 2021 growth rate, was on track to expand at the fastest pace in over three decades. (Growth and output data are according to Haver Analytics.)
Nevertheless, with the largest economic effects of the pandemic likely in the rearview mirror, peak policy support, and therefore peak real GDP growth, was also likely realized in 2021. In the U.S., Canada, and the U.K., employment and wage subsidy programs implemented during the pandemic to support household incomes and consumer spending expired in the third quarter after becoming less generous throughout the year, while similar programs across European countries expired at year-end.
In China, the tighter credit conditions that have persisted until very recently and the regulatory policies implemented as a result of the government's common prosperity initiative have slowed growth.
Monetary policy in most regions has also shifted course from the ultra-accommodative stance necessitated by the pandemic to a path toward normalization. The Bank of England (BOE) and Bank of Canada (BOC) have fully wound down their government bond purchase programs, while the U.S. Federal Reserve is now likely to do so by March 2022. Furthermore, the BOE raised its policy rate in December 2021, and many other developed market central banks, with the exception of the European Central Bank (ECB) and Bank of Japan (BOJ), have signaled impending rate hikes.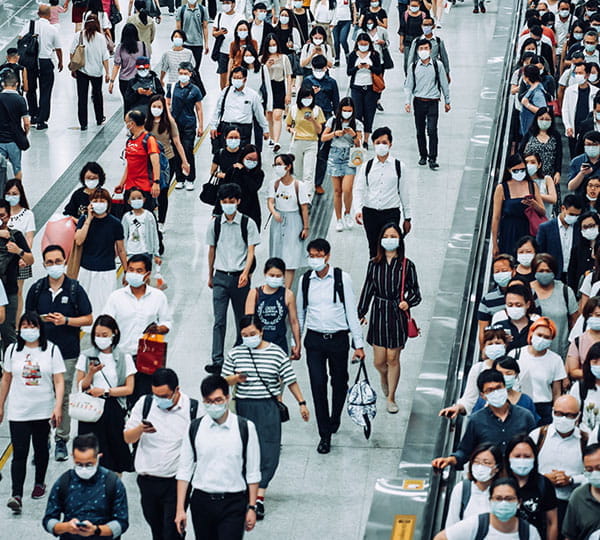 Still, while the global growth outcomes observed over the last six months have been more or less in line with the outlook that we laid out in June, three important developments have caused us to revise various aspects of our 2022 outlook:
First, the delta variant of COVID-19 left a larger-than-expected, albeit still likely temporary, mark on both developed and emerging market economies. Although higher vaccination levels seemed to have helped limit new global cases, more severe outbreaks in emerging markets (EM) disrupted production, lengthened delivery lead times, and hindered global supply chains. For example, production disruptions in Malaysia and China had a notable impact on finished goods inventories in the motor vehicle, home goods, and construction industries. Across major markets, the delta variant outbreak also delayed the services recovery, and stalled the expected substitution away from goods spending and back toward services (after the pandemic fueled elevated consumer demand for durable goods, in particular) – see Figure 1.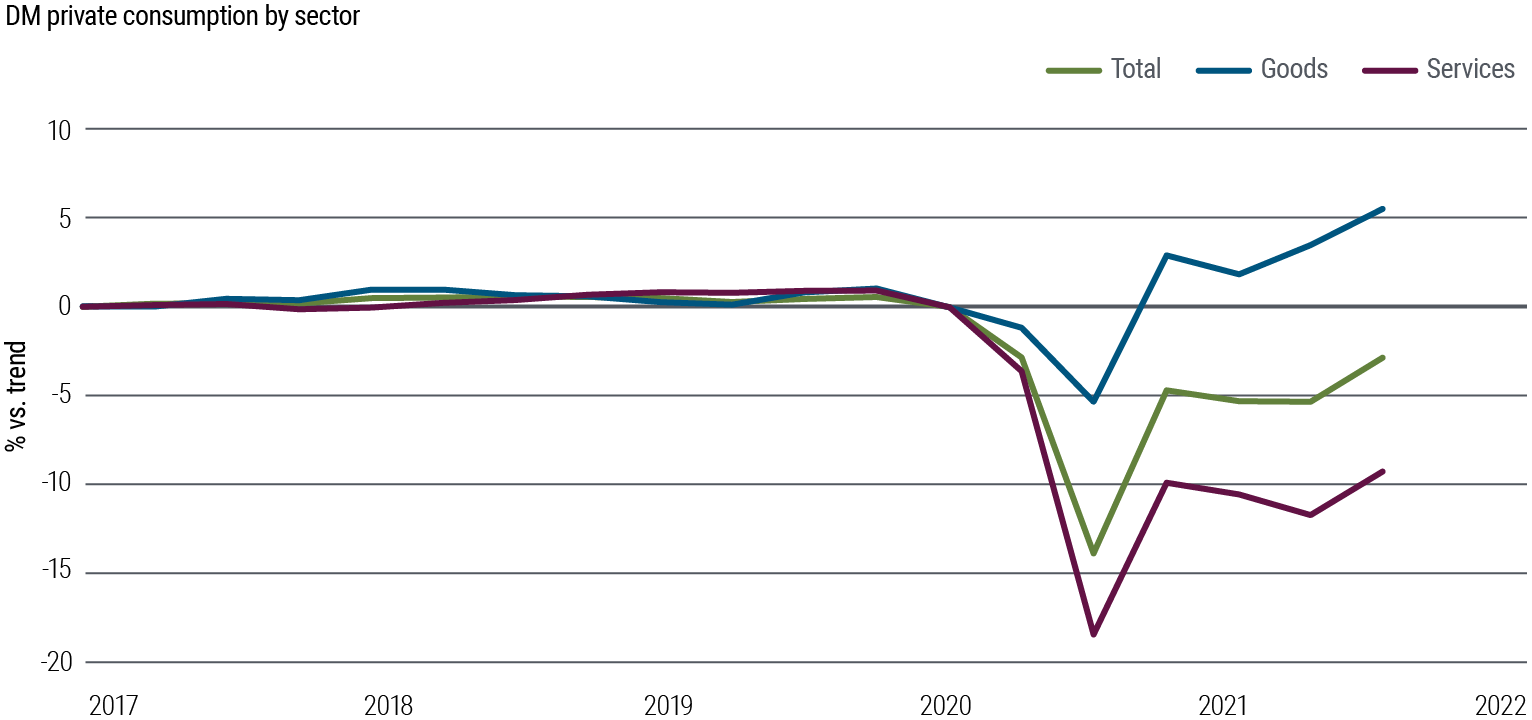 Second, inflation turned out to be more persistent and broader-based across regions (see Figure 2). Robust global goods demand, amid fresh production disruptions and tighter environmental regulations, contributed to price increases across various consumer retail categories, including energy. Meanwhile, strong housing price appreciation either directly (though higher replacement costs) or indirectly (through the knock-on effects to rents) lifted core services inflation in most regions.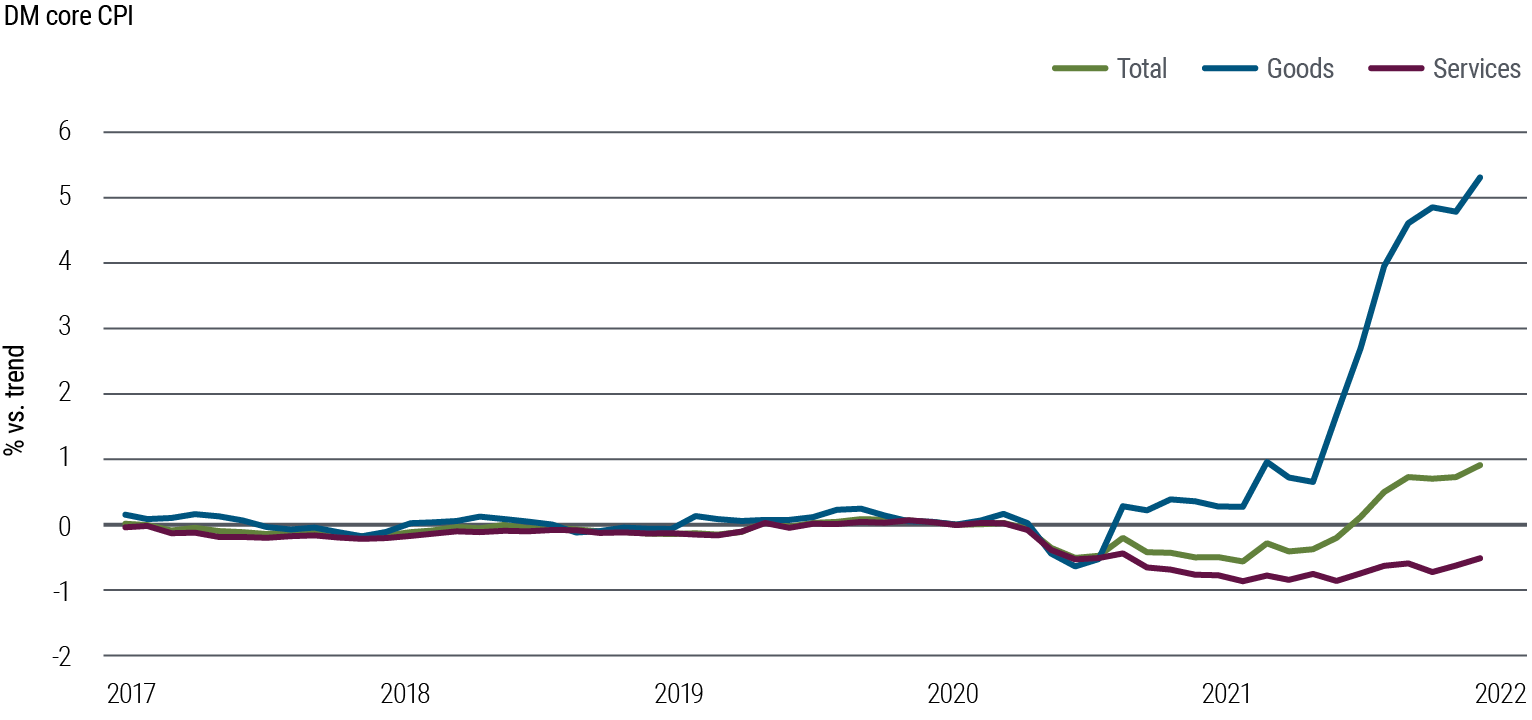 Third, many central banks reacted to these developments either by bringing forward plans to tighten monetary policy, in the case of most developed market (DM) central banks as mentioned above, or hiking more aggressively in the case of various EM countries, including Brazil.
2022 outlook: The 'Goldilocks' scenario
Due to the combination of these factors, we are lowering our 2022 real GDP forecasts across regions. We now expect DM GDP growth to decelerate from a 5.0% annual average pace in 2021 to 4.0% in 2022 (versus 4.3% previously). Rolling global outbreaks of the delta variant in the second half of 2021 constrained output across various economies and will likely weigh on the projected annual average growth rates for 2022. However, the output effects appeared largely temporary. Indeed, high frequency indicators suggest that growth reaccelerated in the fourth quarter in the U.S. and Japan – and in China, after a temporary setback, in the third quarter. Europe, which suffered the economic effects of another outbreak in the fourth quarter, is expected to reaccelerate in early 2022.
We are also raising our inflation forecasts across regions. We still expect DM inflation to eventually moderate back toward the respective central bank targets by the end of 2022, but only after peaking at 5.1% in 4Q 2021. In the U.S., core CPI (Consumer Price Index) inflation is likely to peak around 6.0% year-over-year in 1Q 2022 before moderating back to 2.5-3.0% by year-end. Fiscal stimulus boosted inflation to varying degrees across regions (see Figure 3); however, tightening product market supply constraints coupled with a relative price adjustment between goods and services are also seemingly having an impact. Nevertheless, we continue to expect all of these factors to fade as economies continue to recover from the pandemic and the large fiscal outlays of 2020 and 2021 aren't repeated.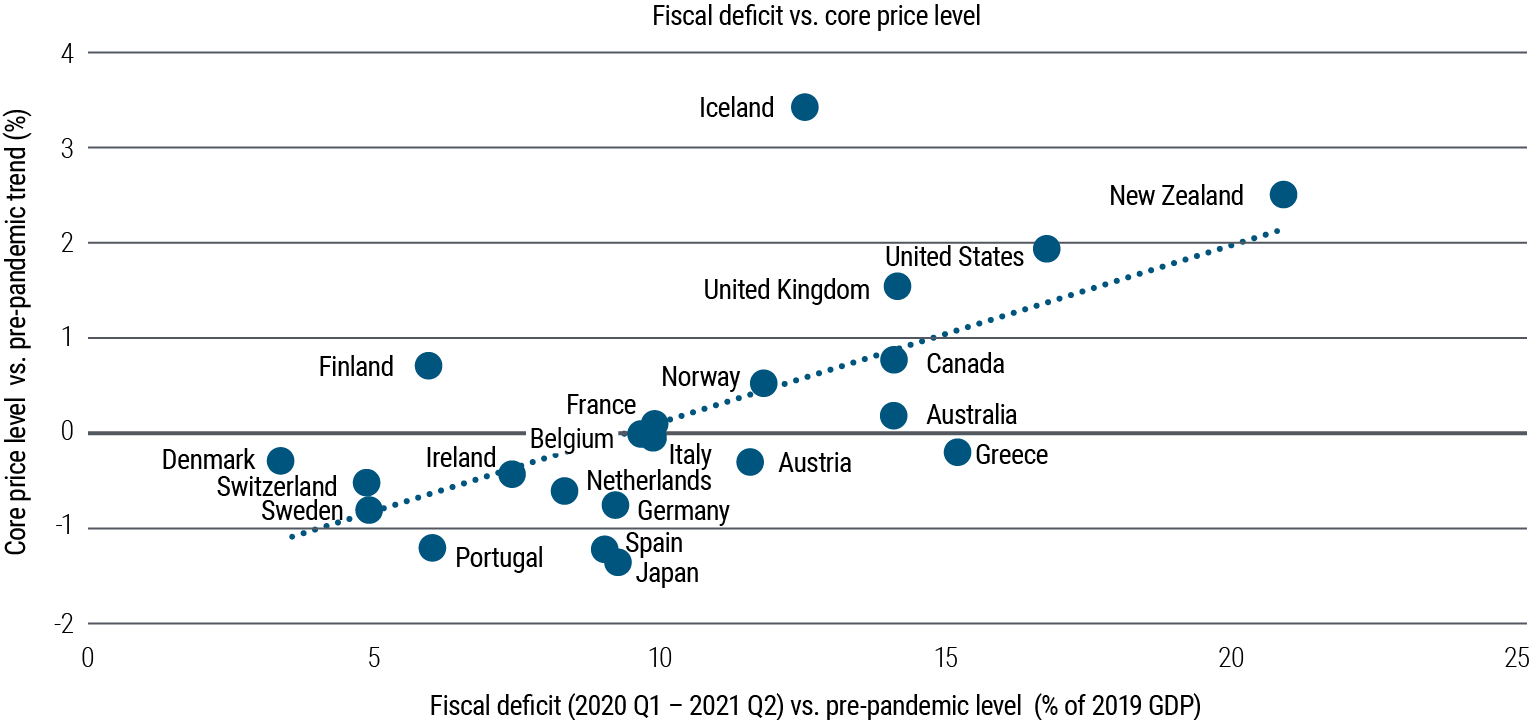 Finally, as a result of the magnitude and the persistence of the recent inflation overshoot, we also now expect an earlier start of DM central bank rate hiking cycles and raised our expectations for the likely level of terminal rates in many EM economies.
In DM, rate hikes are still expected to be gradual by historical standards, but we believe elevated inflation coupled with the swift recovery in labor markets has sharpened central banks' focus on returning policy to neutral. There is a good deal of uncertainty around what level of the policy rate is consistent with neutral; however, in our Secular Outlook, "Age of Transformation" (October 2021), we argued that central bank terminal rates are likely to be lower this cycle relative to the last as a result of generally higher debt levels and central bank efforts to reduce their balance sheets. As a result, central banks can still be relatively gradual in their pursuit of normal policy, in our view.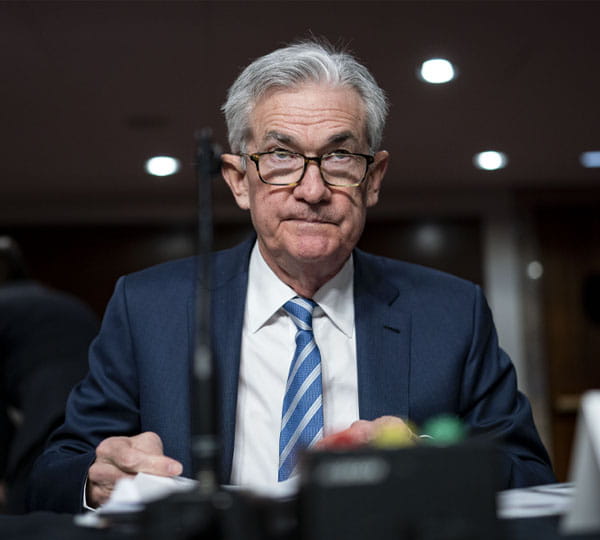 In DM economies, following the BOE rate hike in December, we expect the BOC will be next to hike rates in the first quarter of 2022. The Federal Reserve is now likely to wind down its asset purchases by March, start hiking rates soon after, and begin to wind down its balance sheet in 2H2022. The Reserve Bank of Australia (RBA) is also likely to hike rates in 2022, generally following the path of the Fed.
Turning to EM, we expect most central banks to continue hiking in 2022 after having already materially tightened policy to ward off inflationary pressures in 2021. Still, while inflation is likely to moderate in 2022 across EM, it's unlikely to reach central bank targets over the cyclical horizon, in our view.
Risks to the outlook have grown more acute
Overall, these adjustments don't change the broad contours of our 2022 outlook: above-trend (albeit slowing) growth and moderating inflation prompting a still gradual tightening in DM monetary conditions. Nevertheless, we see three important risks to our base case, which create a generally more uncertain environment for investors:
Risk scenario #1: Inflation remains persistently elevated. Maybe 1) supply constraints don't ease (or become worse due to additional COVID outbreaks), 2) the recently strong productivity growth trends (at least in the U.S.) sputter out, or 3) the incremental labor supply gains resulting from a recovery in prime-age participation and/or immigration don't materialize. Or alternatively, it's possible that inflation expectations rise as a result of the already elevated inflation prints, prompting stronger wage bargaining, which itself feeds into more persistent inflation.
Risk scenario #2: Variants drive surges in COVID, which restrict activity. The recent surge in COVID-19 cases related to the more contagious omicron variant is a clear reminder of the uncertainty sounding the path of the virus, and therefore the risks to our baseline outlook. For now we expect the recent spike in cases to only temporarily moderate developed market growth rates in 1Q, followed by a solid reacceleration in 2Q and beyond. Nevertheless, we are mindful that waves of new infections could further strain resources and fuel behavioral shifts in consumers and businesses that reduce activity and spur more inflationary pressures.
Risk scenario #3: Financial conditions tighten more abruptly than expected. After a period of very easy monetary policy, a more dramatic shift in financial conditions could ensue. So far, we believe DM central banks have done a good job of preparing markets for earlier tightening, but markets are still priced for a relatively gradual path to historically low terminal rates. Over the next several months – a period when U.S. inflation is likely to remain elevated before moderating later in 2022 – financial conditions in the U.S. in particular could tighten more abruptly as markets price in the risk of a more aggressive Fed tightening cycle.
Disclosures
All investments contain risk and may lose value. Investing in the bond market is subject to risks, including market, interest rate, issuer, credit, inflation risk, and liquidity risk. The value of most bonds and bond strategies are impacted by changes in interest rates. Bonds and bond strategies with longer durations tend to be more sensitive and volatile than those with shorter durations; bond prices generally fall as interest rates rise, and low interest rate environments increase this risk. Reductions in bond counterparty capacity may contribute to decreased market liquidity and increased price volatility. Bond investments may be worth more or less than the original cost when redeemed. Commodities contain heightened risk, including market, political, regulatory and natural conditions, and may not be appropriate for all investors. Equities may decline in value due to both real and perceived general market, economic and industry conditions. Investing in foreign-denominated and/or -domiciled securities may involve heightened risk due to currency fluctuations, and economic and political risks, which may be enhanced in emerging markets. Currency rates may fluctuate significantly over short periods of time and may reduce the returns of a portfolio. Mortgage- and asset-backed securities may be sensitive to changes in interest rates, subject to early repayment risk, and while generally supported by a government, government-agency or private guarantor, there is no assurance that the guarantor will meet its obligations. References to Agency and non-agency mortgage-backed securities refer to mortgages issued in the United States. Inflation-linked bonds (ILBs) issued by a government are fixed income securities whose principal value is periodically adjusted according to the rate of inflation; ILBs decline in value when real interest rates rise. Treasury Inflation-Protected Securities (TIPS) are ILBs issued by the U.S. government. Private credit involves an investment in non-publically traded securities which may be subject to illiquidity risk. Portfolios that invest in private credit may be leveraged and may engage in speculative investment practices that increase the risk of investment loss. Diversification does not ensure against loss.
Alpha is a measure of performance on a risk-adjusted basis calculated by comparing the volatility (price risk) of a portfolio vs. its risk-adjusted performance to a benchmark index; the excess return relative to the benchmark is alpha. Beta is a measure of price sensitivity to market movements. Market beta is 1.Roll-down is a form of return that is realized as a bond approaches maturity, assuming an upward sloping yield curve.
The terms "cheap" and "rich" as used herein generally refer to a security or asset class that is deemed to be substantially under- or overpriced compared to both its historical average as well as to the investment manager's future expectations. There is no guarantee of future results or that a security's valuation will ensure a profit or protect against a loss.
The credit quality of a particular security or group of securities does not ensure the stability or safety of an overall portfolio. The quality ratings of individual issues/issuers are provided to indicate the credit-worthiness of such issues/issuer and generally range from AAA, Aaa, or AAA (highest) to D, C, or D (lowest) for S&P, Moody's, and Fitch respectively.
Forecasts, estimates and certain information contained herein are based upon proprietary research and should not be interpreted as investment advice, as an offer or solicitation, nor as the purchase or sale of any financial instrument. Forecasts and estimates have certain inherent limitations, and unlike an actual performance record, do not reflect actual trading, liquidity constraints, fees, and/or other costs. In addition, references to future results should not be construed as an estimate or promise of results that a client portfolio may achieve.
Statements concerning financial market trends or portfolio strategies are based on current market conditions, which will fluctuate. There is no guarantee that these investment strategies will work under all market conditions or are appropriate for all investors and each investor should evaluate their ability to invest for the long term, especially during periods of downturn in the market. Investors should consult their investment professional prior to making an investment decision. Outlook and strategies are subject to change without notice.
PIMCO as a general matter provides services to qualified institutions, financial intermediaries and institutional investors. Individual investors should contact their own financial professional to determine the most appropriate investment options for their financial situation. This material contains the opinions of the manager and such opinions are subject to change without notice. This material has been distributed for informational purposes only and should not be considered as investment advice or a recommendation of any particular security, strategy or investment product. Information contained herein has been obtained from sources believed to be reliable, but not guaranteed. No part of this material may be reproduced in any form, or referred to in any other publication, without express written permission. PIMCO is a trademark of Allianz Asset Management of America LLC in the United States and throughout the world. ©2023, PIMCO.